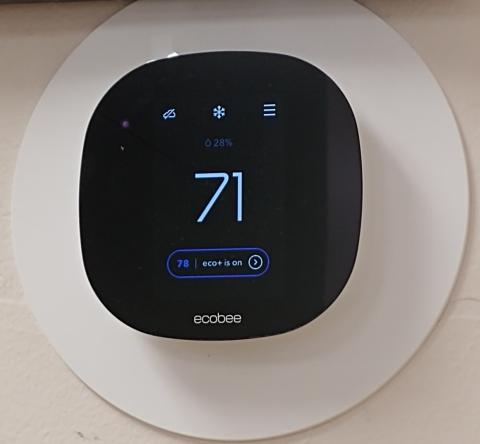 Anza Electric Cooperative is launching a new program to help curb electricity use when demand for energy is highest, which keeps energy prices lower for all members. Participants get a Free Smart Thermostat when they agree to allow AEC to adjust the thermostat's temperature for short amounts of time on high demand days.
Please know that AEC will never turn off your thermostat. There will never be more than 30 adjustment events in a year, and you always have the ability to override the adjustment. And when you participate in at least 65% of the events, you will get an annual bill credit of $100!
A typical summer adjustment event is shown in the table below. The start time of an event varies based on the condition of the electric grid and will never exceed 4 hours.
Example Summer Adjustment Event
Thermostat setting is at 78° and event begins at 3 p.m.
| | |
| --- | --- |
| Time | Thermostat Setting |
|    3-4 p.m. |    Adjusts to 76° |
|    4-5 p.m. |    Adjusts to 80° |
|    5-6 p.m. |    Adjusts to 81° |
|    6-7 p.m. |    Adjusts to 82° |
|    After 7 p.m. |    Returns to 78°, event ends |
Enrolling in the program
When you enroll in the AEC smart thermostat program, you will receive:
An ecobee3 lite smart thermostat
Free installation by a licensed contractor
An annual bill credit of $100 for participating in at least 65% of annual adjustment events
Eligibility
To participate in the smart thermostat program, you must:
Be an AEC member
Be the homeowner of the AEC-served house
Sign a participation agreement
Have an internet connected, Wi-Fi enabled home
Have more questions? Please see the FAQs below.
If you are interested in signing up for the Smart Thermostat Program, please complete the sign-up form at the bottom of the page. 
Click here to view the member participation agreement.
Print the FAQ sheet here.